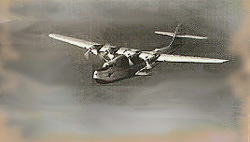 CHAPTER EIGHTEEN
.....the memoirs of William T. Paull
HOMECOMING
April 1945 - August 1945

e landed in Hawaii on April 12, 1945, the day President Roosevelt died. Because of FDR's death, things were pretty much shut down, but Red and I were able to buy some new dungarees and finally discard our tattered combat fatigues. We were surprised when we were given transportation home on the "China Clipper", a Pan American flying boat. Most of the passengers were VIP Navy brass or junketing politicians and their wives. I guess we just lucked out and happened to be in the right place in line when two openings came up. It was a much more luxurious overnight flight than the one from Guam. We landed in San Francisco almost three years from the date of our departure from San Diego in July of 1942.

The plane landed on the bay and we were transported by motor launch to the pier. We have never ever beheld, or smelled, anything more beautiful than those reeking mud-flats and salt marshes. I didn't kneel and kiss the ground, but I was tempted to. A young Marine corporal met us and drove us to Marine Headquarters in downtown San Francisco. I was astonished by how cordially we were treated. Our pay records were brought up to date; we were given emergency funds; awarded ribbons and battle stars to pin on our chests, a ride to a tailor shop to be measured for uniforms; a reservation for a room at the prestigious St. Francis Hotel; and a document to present to any over-eager Shore Patrolman who attempted to run us in for being on the streets out of uniform. I retain a very vivid memory of walking into that room in the St. Francis Hotel. It will forever epitomize utter luxury for me: carpeted floor, huge bathtub and shower, unlimited hot water, and beds with crisp, clean, white sheets.

Red called his mother in Salt Lake. Then he handed me the phone and told me it was my turn to call home. I insisted that I wanted to take a shower first and get myself psyched up. I felt a strange reluctance to making the call. I didn't want to have anyone listening to me and discovering that I was not a stoic warrior. Red finally took charge, made the call and handed me the phone. It was a very emotional event. My Grandma answered the phone and I can still remember her excited words to my mother, "Ethel, it's Bill, it's Bill!". I can't recall much of that long conversation except my mother saying that I sounded "different". I remember trying to reassure her, but we both knew that I was no longer the naive boy that she had kissed goodbye three years ago. Dad was still at work so I called again that evening to talk with him. This was even more traumatic for me. I had never heard my Dad cry before. He got my tears running... I guess we sobbed at each other for the whole call.

We spent the next few hours taking turns in the shower. We must have used up a thousand gallons of water. Then we sat around all afternoon in clean skivies and new socks and drank gallons of cold milk. The room-service waiter must have thought we were a couple of psychos. Hardly the picture of sex-crazed, rioting, berserk, veterans returning home after three years in combat.

We had orders to report to Camp Pendleton after thirty-day leaves and were given an extra five days in order to get our uniforms tailored and arrange transportation home. We toured all the sights during the day and sampled as many of the city's famous nightclubs as we could manage to cram in at night. In the process, my new dress shoes rubbed a blister on my heel so by the time we boarded the train for the trip home I was limping. Everyone assumed that I was a wounded hero and Red and I shamelessly exploited this misconception. The dining car steward came before the first seating bell and escorted us to a choice table in the dining car. Neither he nor our waiters would accept tips. They insisted that it was their privilege to serve us. The civilian passengers were extremely solicitous -- treating us in the club car and wanting to hear our war stories. It was gratifying to be so pampered and admired. I wallowed in it.

I said goodbye to Red Brown at Salt Lake and transferred to the Union Pacific for the last leg of my journey home. Red and I agreed to meet again in Salt Lake at the end of our leaves and proceed together to Pendleton.

There was a crowd of relatives on the station platform when I got off the train in Butte. I had almost forgotten what a big, close family I had. My grandma, mother, dad, aunts, uncles, cousins, friends and neighbors had declared a holiday and taken the day off from work. They formed an overwhelming welcoming committee. Dad had gone to the ration board and obtained a fistfull of extra stamps so he was able to purchase beef roasts, hams, butter, sugar, and other scarce treats. He even got extra gasoline coupons.

The next few days were chaotic...an endless open house. I was relieved when things quieted down before I collapsed from exhaustion. V-E Day, May 8, 1945, occurred while I was home and this triggered another frenzy of celebrations. It was a good thing when my leave neared its end... I had to get back to camp to rest up. On May 23rd, I was due to report in at Pendleton.

It was pretty heady being a mini-celebrity. It seemed as if everyone wanted to buy me a drink, a dinner, or throw a party for me. I got asked to address the history classes at Butte High and Boy's Central. Howard Trewhella's girl friend, Pauline Kane, fixed me up with a blind date with her best friend, Liane Leveque, and we hit it off right away. Pauline got kind of miffed when we just about ignored her and concentrated on each other. Liane was a dispatcher for Western Airlines and wore a snazzy uniform. She and I made a good-looking pair together. I suppose we had five or six dates during the weeks I was home. Liane even tried to teach me how to dance! Met her family and she met mine. Ma asked me if things were getting serious and I assured her that they weren't..... we were just good friends who seemed to have a lot to talk about. I remember a swanky dinner dance at the Country Club --The Leveques were members. This was a heady experience for a poor boy from the north side of Butte..... rubbing elbows with the big-shot society people from the affluent "West Side" I remember being cynical about all the friendy attention I was getting. Before the war, most of these people would have ignored me. Now that I was an "officer and a gentleman" and a war hero, I was being fawned upon.

I flew via Western Airlines and when I boarded the plane for Salt Lake, Liane introduced me to the stewardess and told her to take good care of me. She did. She sat in the seat next to me all the way. Even went on a double-date with her and Red Brown and his current girl friend doing up the hot spots in Salt Lake City... (There weren't many!) We stayed with Red and his mother for two days, then Red and I flew to Los Angeles. We rode the Southern Pacific to Camp Pendleton, the big new Marine base at San Clemente, about sixty miles south of Los Angeles.

Red and I were assigned to an artillery "demonstration battery". This outfit had 105mm cannon but the basic firing procedures were similar to our familiar 155mm procedures. To my dismay, I was designated the Battery Communications Officer. I didn't know diddily about radios, wiring or any of that stuff, but I had a smart sergeant section chief who ran things. The battery only had to muster whenever a visiting big-shot wanted a demonstration of how wonderful our weapons were.

Red and I pooled our resources and purchased a little Ford coupe. This released us from the erratic bus and train schedules. Gas was rationed, but we solved that problem by setting an alarm clock to wake us at three AM. We'd sneak out into the BOQ parking lot with our siphon hose and two five-gallon cans. I can't believe that we never got caught on these nocturnal raids. We were always careful to drain only a few gallons from each vehicle. This took a lot of time -- and a lot of sucking gasoline up a rubber tube. Even now, when I smell the aroma as I fill up at a gas station, I experience a flash back to those nights when I slunk around half-asleep, half-dressed with my rubber hose and fuel cans.

Having our own transportation and a plentiful supply of gasoline allowed us to become carefree playboys. We were free from battalion duty each weekend so we were able to cruise. Our main base of operations was usually the Biltmore Hotel in Los Angeles but we prowled the coast from LA to San Diego. I guess I was "having fun". This whole period has become a montage of vague flashbacks: Vera in San Diego, Elois in LA, Tillie in Pasadena, the Del Mar Racetrack, midnight grunion runs at Laguna Beach, pool parties in La Canada, the wild three-day celebration of VJ-Day in Hollywood.

Liane and I had been writing frequent letters since my departure from Butte and now she and Pauline were planning to take their vacations and fly to LA. I wasn't too thrilled at this prospect and felt that things were moving too fast. I wasn't ready to make a commitment ---I was having too much fun juggling trysts with my three steadies. By some warped rationalization, I felt that I was being true to Elois, Tillie, and Vera. When in Dago I spent all my time with Vera and never cruised around looking for other conquests. In LA, I was faithful, in my fashion, to Elois; and I devoted myself only to Tillie when in Pasadena. A visit from Pauline and Liane would really screw up this wonderful set up. I was a late-bloomer and I was enjoying my "catch-up" efforts.

VJ-Day came and my orders to Quantico caused the cancellation of their vacation plans.

In mid-August, Red and I were given orders to report to Marine Headquarters at Quantico, Virginia, within fifteen days. This seemed ominous, but the war was over so we didn't get too uptight.

We took off in our little coupe, spent two days with Red's mother in Salt Lake, and headed north to Montana. We left in the late afternoon and got into Idaho in the middle of the night. There were no all-night gas stations in those days and our gas gauge was pointing to empty when we reached the little town of Dubois. We parked next to the pump of the only gas station in town and slept there until morning. The station owner filled our tank and wouldn't let us pay for it. We made it to Butte the next day.

We spent about three days in Butte. Liane and I, and Red and my cousin, Irene Todd, went on a double date. I remember driving up to the cabin with Grandma Trewhella, Ma, and Liane for a picnic. The fireplace hadn't been built then but the cabin itself was pretty much completed.

I conned my Dad into loaning us his classy bright blue '41 Dodge sedan. We left him our tired little old grey coupe. Red and I took off on a carefree cavalcade. We had about five days left before we had to report to Quantico. Our tour hit a snag when a tire blew out just as we crossed out of Montana. We limped into Sheridan, Wyoming, and spent two days waiting for the local rationing board to approve our appeal for enough stamps to buy a new tire. During the wait, I must have driven past the Coffeen School where a pretty little third grader, Barbara Jo Kerns, was studying her multiplication tables. I must have felt a spine tingle as our paths converged, since she became my bride thirteen years later, but if I did experience a shiver of delight, I probably attributed it to my pleasure at finally getting a new tire. At the time, I was much more interested in getting new rubber than in checking out some charming little moppet playing on the playground swing.

I spent about three months stationed at Quantico. This is the "Numero Uno" Marine base and it was a fitting place for me to end my Marine career. I had done everything backwards. This was the place where most Marine officers' careers start, in OCC, Officer's Training Corps. Then they graduate and get commissioned as 2nd Lieutenants and get sent out to a Marine Division. I did it the other way around. I went up through the ranks... Boot, Private, PFC, Corporal, Sergeant.....Lieutenant. Field commissioned officers are called "Mavericks" and are often resented by the OCC boys. I learned about warfare in the stinking jungles...not from a manual or a training exercise in the Virginia boondocks.

The war was over and I guess no one knew what to do with the "mavericks." We had a BOQ of our own and were on the books as students in a "Platoon Leader's Class." The class never met and we were free agents. Red and I drove down to Norfolk and picked up my cousin, Howard Gilbert, who was stationed there. We took him on a wild week-end orgy in Baltimore. Howard had to get back to duty and he was penniless.... I remember giving him $20 and saying goodbye to him at the bus station, Howard remembers it somewhat differently. His memory says that I bought him a bus ticket, --and that was it! Twenty dollars at ten percent interest, compounded semi-annualy, for fifty-five years! Wish I had an IOU signed by him.

I went to Yorktown to reunite with old buddy Marty Petersen and finally met his Marian. They had gotten married as soon as Marty got home after our return from Guam. Now I knew why Marty was so smitten. I was smitten too. I slept on their sofa in the dinky little MEQ (married enlisted quarters.) I toured with them around all the historic sites.

During one of our raids into Richmond we stayed at the Robert E. Lee Hotel and got harrassed by the house detective. He didn't think we should be having that much fun.

Washington, DC was great. The male to female ratio was fabulous! All those female aides, clerks, assistants who work in the government offices. Young men were at a premium. I never had to go cruise for a "pick-up." Just sit in a lounge and be picky and choosey. Relax, sit back and get picked up.

I made two forays up to New York, even got a suite at the Hotel New Yorker. Norm Gertz, another "Maverick", was a native New Yorker and he gave me a real tour of the city's best and most notorious night clubs, and I did all the touristy things: The Smithsonion; the memorials; the White House; enjoyed the band concerts on the Capitol steps.





I never ever considered staying in the Corps and making it a career. I could conform to regimentation and obey orders,.... but I felt I needed more freedom of choice. I didn't want my life to be dictated by a protocol manual. Maybe my reluctance to conform to rules and regulations is what has made my life so much fun!

My separation papers state my relief from active duty dated 8 December 1945. I was awarded accumulated leave time so I actually departed Quantico in early November of 1945, and headed home with Red Brown. I remember Red staying in Butte for a couple of weeks before heading on to his home in Salt Lake. We all had Thanksgiving dinner '45 at Auntie Patch's and Uncle John's at 1601 Whitman Avenue. Grandma Trewhella had two sons and four grand-sons who served in the war: Bert, Navy SeaBees; Howard, Army, stationed in England; Roy Gilbert, Army (he was in the Battle of the Bulge); Bill Gilbert, USMC, and Howard Gilbert, Navy. I was the first to leave on January 5, 1942, and last to get home.

I served in the Marine Reserve Platoon as an active reserve in Butte for a year or so after Liane died. This was when I got my 1st Lieutenant bar and later my Captains bars. My commission as First Lieutenent is dated December 2, 1947, and I was commissioned as Captain June 25, 1952. I finally requested "inactive status." Technically, I guess I'm still on "inactive" status. You've heard that old slogan: "Once a Marine, always a Marine!"