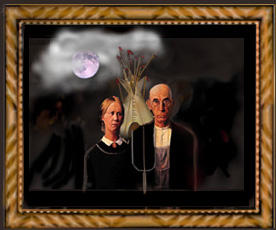 THE HOMESTEADERS
In 1992, Gerald Johnson put his ham radios (KAØVFY) and mountain bike into the back of the buggy and turned his attention to cameras and photo equipment. He has made photography into a lifestyle and is seldom seen around the homestead without a light meter attached to his belt loops and a tripod slung over one shoulder. In August of this year, he won first place in the wildlife category and also took the grand prize in the Wild River State Park Photo Competition. His entry was Great Grey Owl which he came upon in the park during the cold snowy winter months on one of his many photography journeys around the state of Minnesota. Another of his favorite places to take pictures is the Boundary Waters Canoe Area "up north" in Minnesota.
"Jerry" is presently enrolled in the largest and oldest photography school in the world, New York Institute of Photography from which he hopes to graduate in 1997. The images in the first Gallery is pot luck with a little heft given to the cabin country... it's an awesome place. Gallery II is a collection of Minnesota Fur & Feathers.
Tipi is a retired police dispatcher who jumped out of the pan into the fire of the computer world. She is also "hung up" on Native American crafts Some of her projects and thoughts have been hung in the Kraft Kloset for you to see. Tipi is seldom known to charge into anything halfway which is probably a family trait which sailed over the ocean with ancestors from Cornwall in the 1870s. A real Sioux tipi was one of Tipi's major projects, and has since become a trademark.

Copyright 1996 by /\/\ / ( /-/ = // =